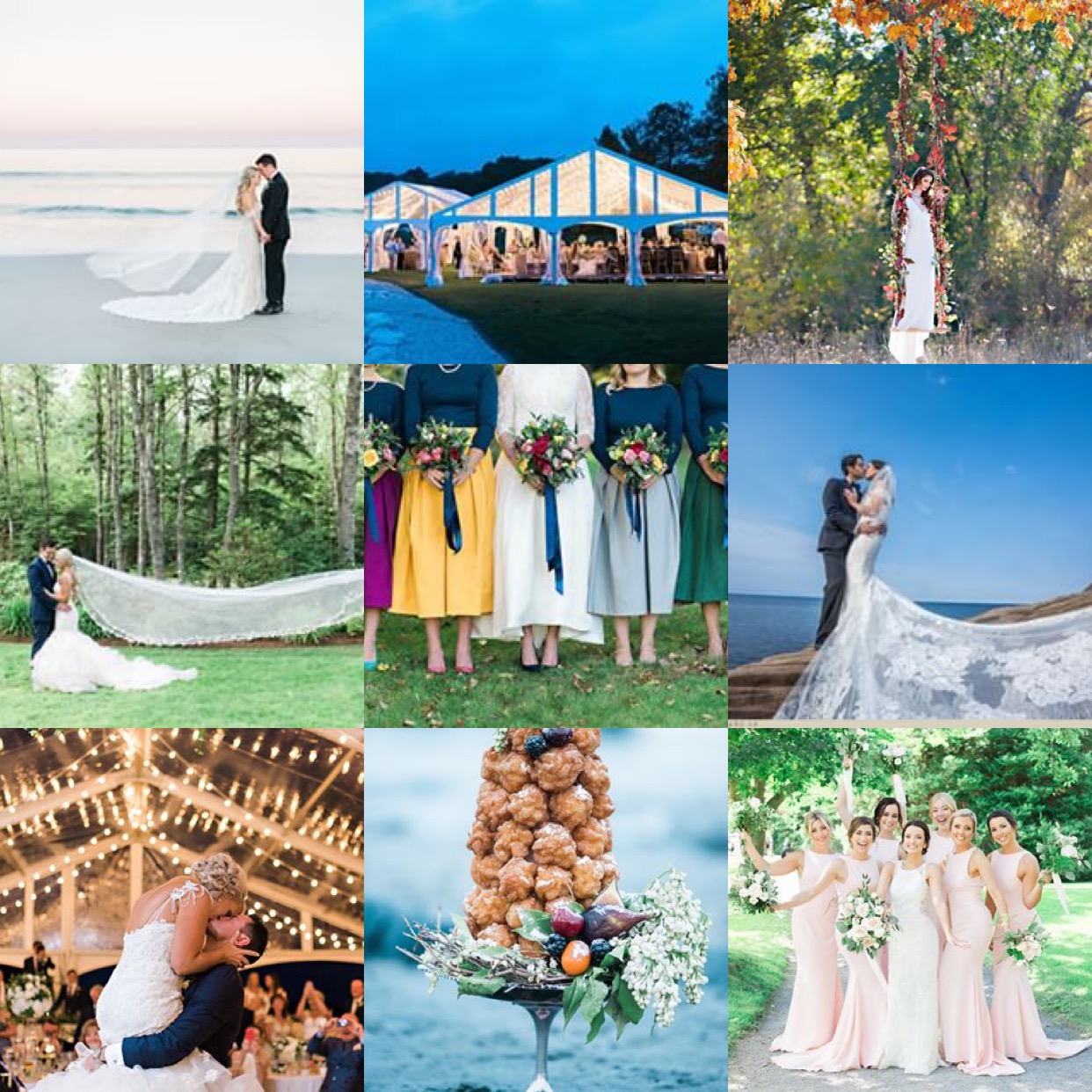 You may have seen the 'top 9' photo trend floating around on Instagram. These are the most liked photos from your feed in 2018. It's a nice way to tie up the year up in a neat little bow or neat little squares in this case. We collected them here and we want to tell you a little bit more about each one, let's jump in!
1st place with the most likes is...
Allie and John on the gorgeous sand at White Point Beach Resort. Candace Berry snuck the two out for some sunset photos during their reception in front of the most gorgeous cotton candy sky. We just love how seamlessly the sky blends into the sea. And Allie's dress from Martina Liana and veil are jaw dropping.
2nd place is...
Laura and James' magical clear tent glowing with laughter and happiness. This tent was setup on their family property in Chester right next to the ocean by Commercial Tent. It was lined with string lights and it was one of the dreamiest reception setups we've ever done. Photographed by Candace Berry Photography
3rd place is...
This photograph is actually a throwback from our Blue Willow editorial in 2013 with Candace Berry Photography, this whimsical swing was such a fun element that we won't soon forget. It was hung from a tree and beautifully decorated by Chelsea Lee Flowers and can we just talk about that beautiful gown by Gillian Hannah Berry swaying in the breeze?! We often look back to this shoot for inspiration because it's timeless design is still so relevant.
4th place is...
Laura and James again! They have 3 photos in our top 9, like I said, one of the dreamiest weddings we've ever done. Laura's cathedral veil was really a show stopper and it will forever give us veil envy! She was an absolute vision in here Eve of Milady gown and James was so handsome in his navy tuxedo. Photographed by Candace Berry Photography
5th place is...
Rowan and her lovely bridesmaids wearing their colourful separates. Navy was a consistent colour throughout the wedding which the bridesmaids wore on top with timeless boat necklines and these pretty skirts were custom made for each bridesmaid by Elle Musset. The icing on the cake was that they each had pockets! These bright bouquets arranged by Chelsea Lee Flowers co-ordinated perfectly. Photo by Candace Berry Photography
6th place is...
Arielle and Aram on the beach at Fox Harb'r Resort. They had a Little Foot Yurt setup on the resort property for the reception. Yorke Photography captured Arielle's dress in all it's glory with it's flowing train and delicate lace details. When we saw these photos for the first time we were speechless.
7th place is...
You guessed it, Laura and James inside that fantastic clear top tent by Commercial Tent. Surrounded by twinkling lights, under a beautiful floral chandelier by Chelsea Lee Flowers, and all their lovely guests looking onward. This was part of their epic first dance, it was so graceful and romantic, and this kiss topped it all off. Photo by Candace Berry Photography, Dress by Eve of Milady.
8th place is...
The yummiest croquembouche tower expertly created by Manuel & Co. and photographed by Candace Berry Photography. It sat seaside at our Windswept Coastal editorial and tied in perfect with our blue hues in our floral and table top decor. Croquembouche is a dessert that is often served at weddings and other special occasions in France. Isn't it beautiful!?
9th, but not least is...
Emily and her blushing bridesmaids photographed by Terri-Lynn Warren Photography! We are absolutely in love with these dresses from Boutique 1861 and I think you all are too (judging by the likes). The silhouette is oh-so flattering on these ladies and we love the elegant necklines, almost mimicking the brides. The lovely pastel floral by The Flower Shop compliments perfectly as does the backdrop of the Halifax Public Garden's, established over 150 years ago. Plus they're all having so much fun and those smiles are contagious!
Instagram is definitely one of our favourite social media platforms to share all of our behind-the-scenes and wow moments with you! We're so excited to jump into a new year of planning dream weddings and for you to follow along and can't wait to see what your favourite posts will be in 2019.
xo
Rebecca